Worcestershire Chess Association

Worcs CA

Worcestershire Junior Chess Academy
WJCA is sponsored by King's School Worcester
Click for directions and location map
Click for parents' information and joining form (both pdf documents)
During school term-time the club meets on most Saturday mornings 10:00 am to 11:45 am at King's School Worcester, next to the Worcester Cathedral. Enter from Castle Place WR1 2NB. Most sessions are supervised by Ray Collett and the theme for Sat 27 Sep will be 'discovered check'. The session on Sat 5 Oct will be led by Simon Berry.
If you would like to join us, please contact Ray Collett by e-mail or by telephone Worcester 454 754 before your child's first attendance.
UPCOMING
Sat 12 Oct Warwick Junior Open at Warwick Prep Sch, Bridge Field, Banbury Road, Warwick CV34 6PL. Five rounds starting at 1pm. Six tournaments: Under-11 Open, u75, u50 and u25 grades and under-18 Open and u100 grade tournaments. A Warwickshire Junior GP event.
NEWS
3 Sep. Former member Manvith Sandhu and 2018 Worcestershire Junior Champion represented England in the under-12 World Cadet Championships in Weifang International Leisure Sports Town, Shandong Province, China. He scored 5½ points from his 11 games. His opponents included players from Latvia, China, USA, Slovakia and Indonesia. The tournament was won by ten-year-old Zhou Liren (USA) with 9½ points who alread a Candidate Master.
12 May. Members win at Worcestershire Megafinal. Two club members took home prizes from the Worcestershire Megafinal of the Delancey UK Schools Chess Challenge. Josh Clarke was first in the under-13 tournament with 5 points. In the under-8 tourament, Eamon Tan finished on 4 pointsand came third.
9 Mar. Ethan Tan wins Warwick Junior Open under-11 tournament with a clean sweep of 5 points from 5 games.
17 Nov. Winter tournament winners. Josh Clarke (The King's School, Worcester) was first winning all his games and gaining 15 points. The highest scoring primary school entrant was Ethan Tan (St Alban's, KSW) on 13 points. Following closely behind were Beau Cannon (King's Hawford Sch, Worcester) and Eamon Tan (St Albans, KSW) on 11 points. Oliver Bullock (St Barnabus Primary, Worcester) was fourth with 9 points.
6 Oct. In the first three sessions of Autumn term, members looked at night forks and how to play king and pawn endings.
16 Sep. County juniors do well in Terafinal. Current county junior champion Finlay Bowcott-Terry scored 4 points from his 6 games in the under-14 UK Chess Challenge tournamant at Peterborough, Ramesh Abhishekdev scored 3 in the under-12 section and Manvith Sandhu scored 3½ ponts in the under-10 tournament. Full results on the chess results server.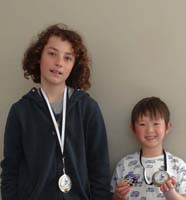 12 May. Eamon wins place in Gigafinal. Eamon had to travel to Gloucester to get his place in the Midlands Gigafinal and scored 4 points from his games. He goes forward to play the best in the Midlands at a tournament in July at Solihull.

21 Apr. Theo and Eamon win medals. In a small double round club championship event, Theo (Bredon Academy) was first with 5½ and Eamon second with 3½ points.
7 Apr. Tan brothers win medals in Warwickshire Junior tournament. Brothers Ethan and Eamon (Powick Primary Sch) shared third place in the Section D tournament at this event. Both scored 3 points from their five games.
26 Nov. WJCA team wins silver medals. Joel Reeves (Red Hill Primary School) was the outstanding player at the Winter tournament held at the King's School Worcester in 26 November. Other club players who did well were Tamara Marsden (King's School Worcester) who was 5th and led the Worcestershire Junior Chess Academy team to the silver medal position. Young brothers Ethan and Eamon Tan (both Powick CofE Primary School) and Theo Rodgers (Bredon Hill Academy) were the other players that gained the club's success.

29 Apr. Tamara wins Easter tournament. Tamara (The King's School, Worcester) is the first outright female winner of the club's tournaments scoring 17 points. Theo Rodgers (Bredon Hill Academy) was second on 16 points and third place was shared by Max Wheeler (Abberley Hall School), Jacob Gwilliam and Pranav Mayilvahanan (both King's St Alban's). See report at Worcester News.