John Wrench Kidderminster Champion
30 Jul. John won for a record 11th time. Wrench pulled off a nice semi final win against number one seed Joseph Friar whilst 12 year old Cameron Henry caused a semi final upset to become the youngest finalist in the competition's 121 year history. With the black pieces and playing a French Defence Wrench emerged a pawn up to finally checkmate the youngster after 53 moves.
New chess club in Pebworth
26 Jul, Dan Lambourne reports. Debbie Robinson organised a successful launch for the club with juniors and older hands playing social chess at the Village Hall. The club next meets on 2 August and then fortnightly during August and moving to a weekly schedule in September. View their flyer.
Dudley and District re-starts September 2022
21 Jul, John Fahy reports. Arrangements for 2022-3 season. The DDCL fixtures meeting is scheduled for 7:30pm Thursday 11 August at the Stag and Three Horseshoes (Warley Quinborne venue).
Kidderminster Club
21 Jul. Joe Friar clinched four Kidderminster trophies: The Shuttle Shield, beating John Wrench in the final; Quickplay; Lightning and Handicap championships. In the final for Kiddermister championship twelve-year-old Cameron Henry plays John Wrench.
Continuity at Worcester Club
16 Jun. At the club's 186th annual general meeting, officials were re-elected and Jim Keene took on the role of honorary treasurer. The club had gained new members after the end of Covid-19 restrictions and attendance had returned to normal. The club agreed to enter at least three over-the-board teams in local the league and formalise the club's online team that were runners-up in 4NCL division 5. At the awards ceremony, Steve Mellor, Phil Austin and Scott Oxtoby were presented with trophies.
Worcestershire players at Birmingham rapidplay
12 Jun. Players from Kidderminster and Worcester took part. The most successful players were John Varilone (Kidderminster) in the Intermediate and Simon Berry (Worcester) in the Minor tournaments. Both scored 4½ points and were out of the prize list.The Friar bri=others (Kidderminster) had a torrid time as did Colin Vernon (Worcester). Juniors scored well with former county junior players Finlay Bowcott-Scott in fourth place on 5 points that included a win against a GM, and Manvith Sandhu scoring 4 points in the Open while Worcestershire Squad player Ned Guyett (Nunnery Wood HS, Worcester) scored a creditable 3½ points in the Minor tournament.
Joint league meeting: Redditch crowned league champions
Redditch team captain Dan Lambourne receives League championship trophy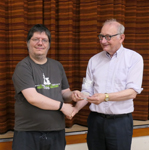 9 Jun. Club representatives met to consider future competitive chess in Worcestershire. The county association and Worcester District League official called a joint meeting of club representatives to plan for the 2022-3 season and evaluate the temporary joint league formed for the 2021-2 season. Brian Turner, honorary treasurer reported that funds were in good shape and it will be possible for league fees to be waived for a further season. District league funds were now held in the County association's account because its own bankers had raised charges to an uneconomic level. Club representatives thought the temporary merged league had worked well and allowed a reasonable level of activity when many players were still worried about risks of catching Covid. Paul Sharratt said that there had been only a third as many rated games played as pre-Covid and several speakers said keen players and new players required more opportunities to play than provided last season. Members agreed that four senior officers of the two organisations (Ray Collett, Andrew Farthing, Paul Sharratt and Brian Turner) should draft proposals for a joint league structure and a potential structure for the County association that would permit a merger of District League and County Association. It is likely the District league will hold an AGM to consider these proposals and a merger before the county association AGM. At the meeting's conclusion, WCA President Ray Collett presented Dan Lambourne, captain of Redditch team, with the Division 1 trophy.
Meeting of the joint leagues 2022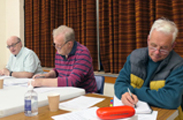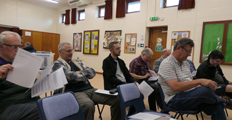 Dudley & District League re-starts September
8 Jun, John Fahy reports. An AGM and fixtures meeting is planned for July and club secretaries have been invited to enter teams for the 2022-3 season competitions. If you want to enter a team in D&Dist CL please contact John Fahy.